ADT will be at the 2019 Turbo Expo in Phoenix this June. We're going to be showcasing TURBOdesign Suite at Booth 404 in the Phoenix Convention Center as well as presenting a paper.
Our featured paper will be on Multi-Objective Design of a Transonic Turbocharger Compressor with Reduced Noise and Increased Efficiency. You'll be able to find it on Friday 21st June at 8am at location 125-AB. If you aren't going to be in Phoenix, just let us know and we can send you the paper after the conference.
Our paper looks at reducing noise in transonic turbochargers. In marine diesel engines there is always a necessity to reduce turbocharger noise as much as possible to create a more comfortable working environment. The most effective way to do this is by reducing the compressor noise at source, so the compressor impeller itself produces less noise rather than using any silencers.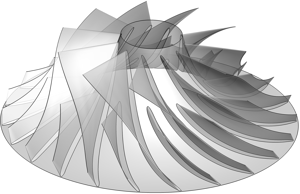 The paper presents the redesign of an existing impeller wheel using the 3D Inverse Design method with an in-house aeroacoustic code. It shows how using an Inverse Design method addresses multiple objectives; in this case reducing noise and improving efficiency at high operating speeds. There's going to be over 1000 papers presented in Phoenix but make sure you don't miss out on ours!
As regular fixtures at the Turbo Expo we've presented many papers in the past. Two of our most popular recent ones have been:
Or you can have a look at some of the results our engineers and software have achieved using TURBOdesign Suite:
All of this work plus more details on all of our software packages and latest ADT news will be available at our booth at the Expo. Remember, you can find us at Booth 404.