An aeroengine manufacturer was involved in a highly competitive bidding process on a 3 stage LP turbine and asked ADT to design the turbine using the Inverse Design method.
ADT was provided with through flow data for the 3 stage turbine plus initial normal thickness distributions for each blade row.
Design Target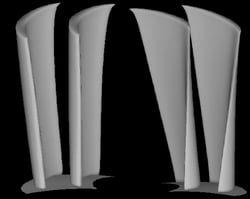 To develop a high performance 3 stage axial LP turbine in a 6 week period time frame to help in a competitive bidding process with other competing aeroengine manufacturers.

Deliverables
A high performance LP turbine developed within 5 weeks.

Impact
The high performance of the turbine enabled the client to beat other major aeroengine manufacturers and win the competitive bid. The turbine was then manufactured and flown in an aeroengine.
Using this information, ADT engineers were able to use TURBOdesign1 to design each stage of the LP turbine blade. TURBOdesign1 is ADT's unique, aerodynamic and hydrodynamic inviscid design code which is able to create breakthrough turbomachinery designs by giving the user control over the blade loading.

Our design consultancy services deliver cutting-edge solutions to our global customers. Whether the task involves a complete solution, from concept to final design for manufacturing, or is facing challenging multi-point / multi-objective design optimization, we work closely with our customers and support them throughout the entire design process.