2020 promises to be an exciting year for ADT, with a calendar full of events and a brand new TURBOdesign Suite release edging ever closer. Here's a quick overview of what to expect this year.
TURBOdesign Suite Software Update
This year we're going to be releasing a major update to TURBOdesign Suite. The changes focus on the GUI and significantly improving usability. Version 7 will make it much easier to analyse and compare designs and export geometry. It's also an update with an eye on the long term, as we look to incorporate more modules within TURBOdesign1. In this release the features of TD CAD and TD 3D Lab are now a part of TURBOdesign1 and it gives us the opportunity to do this with many more of our modules in future.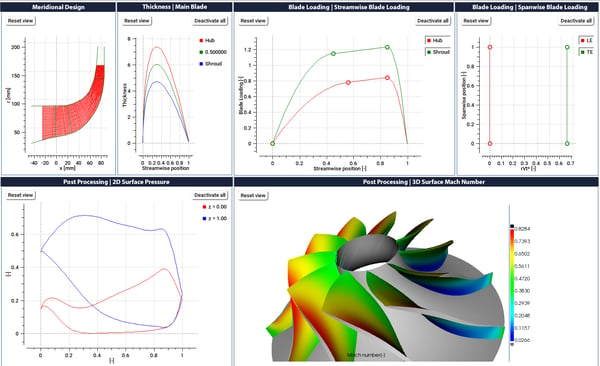 The brand new interface will place design engineers inside a live design environment, seamlessly blending design input and output geometry with performance parameters. Each user will be able to adapt the interactive GUI to display the data that's important to them and get direct feedback after each case run.
You'll be hearing much more about this in due course so stay on the lookout for more about all the new features, including an updated project manager and improved geometry generator, as we lead up to a full release later this year.
New Developments in TURBOdesign Pre
Alongside the update to TURBOdesign Suite, we have introduced a new refrigeration module to TURBOdesign Pre. This new module is in response to a big increase in work for many of our clients with chiller compressors and it allows for computing the thermodynamic properties for a machine with a one or two-stage compressor.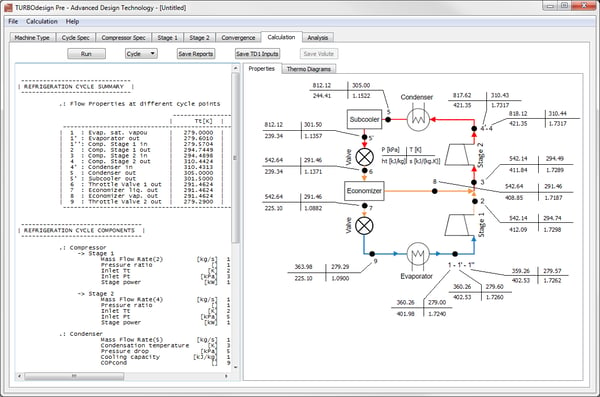 The cycle is solved by making use of the centrifugal compressor module already available in TD Pre, with the cycle requirements forming input parameters for the compressor. It provides for both initial sizes of the compressor as well as important cycle information such as the economizer flow rate.
TD Suite UGM and 2020 Events
2020 is a particularly exciting year for turbomachinery in London with the ASME Turbo Expo coming to the city in June. We'll be there exhibiting the new TURBOdesign Suite GUI as well as presenting some technical papers. The IMechE Conference on Turbochargers and Turbocharging is being hosted in London in May, where we'll also be exhibiting and presenting. We'll release more details about these closer to the time, but make sure the dates are in your diary.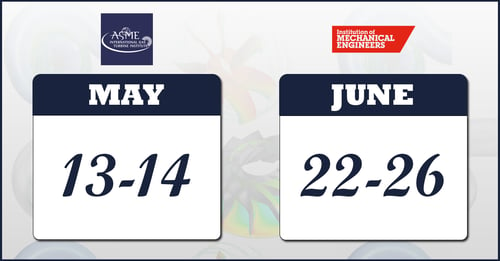 For even more detail on the TURBOdesign Suite release, we're going to be hosting a user group meeting to explain the new features and where we'll have expert engineers on hand to discuss and answer any questions you might have about the software. More details will be released in due course but to get the very latest updates on when you can sign up, let us know by dropping us your email in the box below.
You can find lots more on all of these developments in our Turbonews newsletter, which will be available later this month. Drop your email address in the form below and we'll send you a PDF copy as soon as it's published.