Daikin Applied used an inverse design approach to design a compressor with significant gains in efficiency to meet U.S. and international efficiency standards.
Daikin Applied, a fortune 1000 company and the largest heating, ventilation, air conditioning (HVAC), and refrigeration company in the world, developed a new, ultra-efficient compressor design capable of achieving multi-million dollar performance gains by using TURBOdesign Suite.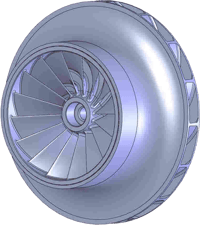 "In general, one point of efficiency gain equates to about $1 million (U.S.) of profit," says Guy Phuong, Development Engineer at Daikin Applied. "Daikin Applied's target performance gain for this project using the TURBOdesign Suite software is 2.5 points of efficiency gain. We already have achieved more than a two-point compressor efficiency improvement."

The HVAC system represents a large percentage of a building's energy use. Since the 1980s, manufacturers of HVAC equipment like Daikin Applied have worked to make their systems more efficient. This was originally driven by rising energy costs and therefore customer demand. It was mandated by governmental standards like those set by the U.S. Environmental Protection Agency Engine Testing Regulations and Europe's Ecodesign Directive. There are several methods for making HVAC systems that meet or exceed these standards, including making individual components such as air conditioning system compressors more efficient.
"Our 3D inverse design optimization technology provides innovative solutions while reducing development time and costs," said Professor Mehrdad Zangeneh, founder and managing director of ADT. "By using TURBOdesign Suite, Daikin Applied engineers were able to apply the 3D Inverse Design approach to directly use knowledge of detailed fluid dynamics, as provided by computational fluid dynamics (CFD) and detailed measurements, to arrive at a breakthrough solution that met efficiency goals."
In the 3D Inverse Design approach enabled by TURBOdesign Suite, the blade geometry is computed for a given pressure or loading distribution. Since 3D pressure distribution controls the viscous behaviour of the flow, by controlling the 3D pressure field, it is possible to directly use the detailed information provided by CFD solutions to arrive at a choice of optimum loading and control particular sources of performance loss in turbomachines.
To learn more about why Daikin Applied chose TURBOdesign Suite, how they were able to quickly implement it and the full results of their work, read the full case study.