Welcome to our September update, where you can catch up with what's been going on at ADT over the summer, read our latest paper and sign up for our webinar on Supercritical CO2.

We'll be holding a webinar next week - September 18th - looking at Design of a Supercritical CO2 Compressor and Turbine for a 10MW System. Supercritical CO2 cycles have the potential for a wide adoption across energy sources, increasing cycle efficiency by about 5% and allowing for much more compact turbomachinery components compared to traditional Gas Turbines and Rankine cycles. However there are many design challenges associated to smaller, highly loaded turbomachinery and a different working fluid.
In this webinar we will provide an overview of these challenges and provide a turbomachinery development process based on 3D Inverse Design to consistently design high efficiency compressors and turbines for Supercritical CO2.
The webinar will run twice to accomodate different time zones:
Register for the 9am BST (5pm JST) webinar
Register for the 5pm BST (12pm EDT) webinar
Improving Efficiency in a Turbocharger Centrifugal Compressor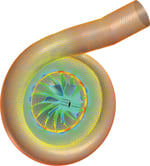 Cummins Turbo Technologies used TURBOdesign1 to improve the efficiency of a turbocharger centrifugal compressor wheel. Their baseline impeller had already high efficiency and they had tried to improve it using conventional design methods. After these were unsuccessful they decided to use the Inverse Design code TURBOdesign1.
Inside the case study, discover how TURBOdesign1 "provides the best means of rapidly designing 3D centrifugal compressor blades with superior performance".
Paper of the Month: Coupling Inverse Design and Optimization Techniques for Turbomachinery Design
Our September paper of the month is On the Coupling of Inverse Design and Optimization Techniques for the Multi-objective, Multi-point Design of Turbomachinery Blades. It discusses the benefits and challenges of automatic optimization before going on to look at how 3D Inverse Design can be used to reduce the computational cost of multi-point optimizations.
Inside you can also read about how blade parameterization can provide a major boost to the optimization process.
Redesign of an Industrial Compressor Stage
ADT engineers carried out the redesign of an industrial compressor stage, optimizing it for efficiency, operating range and pressure ratio.
The consultancy summary looks at the flexibility of TURBOdesign1's code to modify blade parameters in a short space of time as well as how to use a 3D Inverse Design method to achieve superior aerodynamic performance.
If you want more like this to drop into your inbox, sign up to receive relevant updates from us below. Letting us know your interests will help us tailor our content so you only receive what's most important to you.