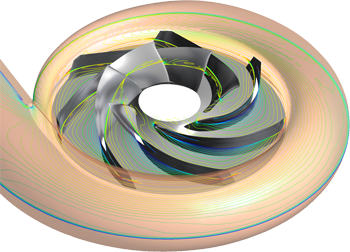 Rotodynamic pumps, ranging in type from very low specific speed centrifugal through mixed- and axial-flow pumps, constitute the workhorses of fluid transport systems. After a protracted history of application free of regulation, these machines are now increasingly subject to government regulations and directives mandating their adherence to newly introduced energy standards, with more types and configurations included over time.
This fact, combined with general competitive pressure across the industry, means that it is no longer sufficient to design and manufacture a pump that simply works. Energy efficiency, over an extended operating range, has become a vital objective of design efforts, along with performance tuning to suit the machine's intended application.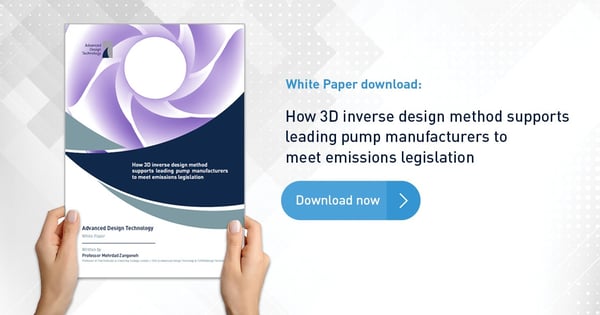 Playback our webinar
In our webinar we demonstrate how a conventionally designed centrifugal pump stage consisting of impeller and volute can be optimized for improved stage performance by using the following modules of TURBOdesign.

Learn how the different modules in TURBOdesign Suite ease & streamline the design process for rotodynamic pumps of virtually all specific speeds.
Discover how the direct control of performance-related loading parameters allows pump manufacturers to rapidly improve & optimize their designs, and remain viable in a challenging, increasingly regulated market.
See how TURBOdesign Suite is seamlessly integrated with world class simulation systems to provide a comprehensive product development solution for the design of high performance pumps.