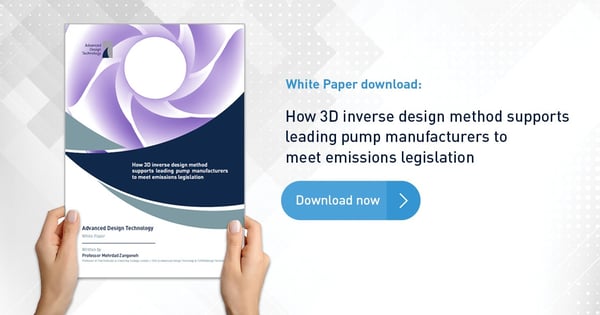 Our client of a large global pump manufacturer provides a full range of pump series for a variety of applications. They have been using TURBOdesign1 in their design system and have collaborated with ADT on several projects. In this project, ADT were tasked to perform a multi-objective design optimization of a pump stage as shown in Fig. 1. The aim was to identify the most important geometrical and blade loading parameters that affect the pump performance with regards to hydraulic efficiency, cavitation, shut-off and stall characteristics.
Project details:
Design Targets
Improve the impeller suction performance at design point.
Improve the stall performance.
Maximise pump head at shut-down.
Deliverables
Design guideline based on sensitivity analysis for impeller design.
Optimised impeller geometries for different objectives.
Impact
General applicable design guidelines for multi-point / multi-objective design of centrifugal pumps.
Playback our webinar
In our webinar we demonstrate how a conventionally designed centrifugal pump stage consisting of impeller and volute can be optimized for improved stage performance by using the following modules of TURBOdesign.

Learn how the different modules in TURBOdesign Suite ease & streamline the design process for rotodynamic pumps of virtually all specific speeds.
Discover how the direct control of performance-related loading parameters allows pump manufacturers to rapidly improve & optimize their designs, and remain viable in a challenging, increasingly regulated market.
See how TURBOdesign Suite is seamlessly integrated with world class simulation systems to provide a comprehensive product development solution for the design of high performance pumps.