ADT engineers designed a radial-inflow turbine for organic rankine cycle for a leading energy manufacturer.

The client asked ADT to design a turbine stage including the rotor and nozzle within their existing volute to replace a poorly performing current design. The overall stage efficiency needed to represent a significant improvement on the baseline design. The client also required variable nozzle and trimmed rotor blades to meet different operating conditions.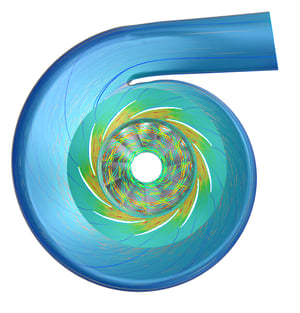 You may also be interested in our consultancy: Multi-objective Optimization of a Variable Geometry Turbocharger (VGT)
ADT used TURBOdesign Pre to first obtain the initial meridional geometry for the nozzle and rotor blades. Once this was obtained, TURBOdesign Pre's integration with TURBOdesign1 allowed the data to be exported and the final design created there.
For the final results, download the full consultancy.
About TURBOdesign1
TURBOdesign1 computes the 3D blade geometry for a given distribution of blade loading and blade thickness. Specifying blade loading gives direct control over the 3D pressure distribution and the spanwise work distribution. It allows for direct control of the 3D flow field and allows designers to explore a large part of the design space efficiently leading to breakthrough designs. It results in significant improvement in performance as well as major reductions in design and development time.
Find out more about TURBOdesign1
About TURBOdesign Pre
TURBOdesign Pre is a 1D sizing code for the preliminary design and analysis of turbomachinery components. It allows users to quickly get a meridional contour for a specified turbomachine, which can be radial, axial and mixed flow type. It requires only a few inputs of hydro/aerodynamic parameters and geometric constraints and can export the meridional geometry to TURBOdesign1 and TURBOdesign Optima.
Find out more about TURBOdesign Pre
TURBOdesign Pre can be used to design centrifugal compressors, radial-inflow turbines, centrifugal fans, centrifugal pumps and mixed flow pumps.