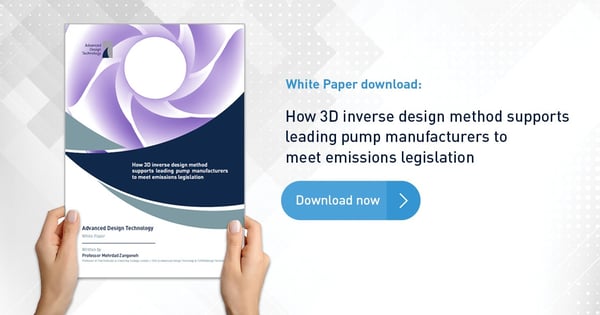 Carver Pump has been one of the world's leading centrifugal pump design companies since 1938, building pumps to the most demanding engineering specifications and military standards. The product line includes horizontal and vertical end suction, multistage, axial split case, self-priming, API and solids handling pumps; all made to give lasting value from superior designs.
Carver implemented the three-dimensional (3D) inverse design method by incorporating TURBOdesign1 (TD1) for their design technology. TD1 is a unique aerodynamic and hydrodynamic 3D design package for all types of turbomachinery blades such as pumps, compressors, fans, turbines and torque converters.
The 3D inverse design approach enables designers to describe the loading criteria than output a blade design based on those parameters, which is essentially the reverse of how most other computer-aided design software systems for turbomachinery work. TURBOdesign1 does not rely on empiricism; hence, it is easy to train new designers who can become productive quickly. With TURBOdesign1, typical performance improvements are 2-3% points to get the best designs.
Carver wanted to make its products even more competitive by expanding its RS multistage ring section pump offerings with increased efficiencies. TURBOdesign1 and the TURBOdesign Optima module allowed Carver to reduce the design time. Their original design method took about two months of engineering time, by using TURBOdesign1 and TURBOdesign Optima, they cut the RS multistage ring section pump product development time to four weeks.
By using TURBOdesign1 they eliminated two weeks of design time and using TURBOdesign Optima further reduced an extra two weeks. The time saved allowed them to design more pumps in their product time.
More importantly, the company has since increased sales through improved design efficiency as each design saves a few percentage points of efficiency. "A complement to this is that we can pursue more business that pushes the envelope because we know we can consistently develop reliable hydraulic designs". In essence, the main benefit for Carver Pump is potential revenue growth through new products.
Playback our webinar
In our webinar we demonstrate how a conventionally designed centrifugal pump stage consisting of impeller and volute can be optimized for improved stage performance by using the following modules of TURBOdesign.

Learn how the different modules in TURBOdesign Suite ease & streamline the design process for rotodynamic pumps of virtually all specific speeds.
Discover how the direct control of performance-related loading parameters allows pump manufacturers to rapidly improve & optimize their designs, and remain viable in a challenging, increasingly regulated market.
See how TURBOdesign Suite is seamlessly integrated with world class simulation systems to provide a comprehensive product development solution for the design of high performance pumps.