Searching for new tools to make the design process faster and more efficient? TURBOdesign1 was chosen as it was the most suitable tool for developing new fan design blades, promising gain of time and a better understanding of the aerodynamics.
Ebm-papst is one of the largest fan manufacturers in the world with a turnover exceeding 900M Euro. Recently they carried out an extensive benchmark of many different design methods available worldwide in order to make their design process faster and more efficient. As a result of this extensive evaluation they concluded that TURBOdesign1 by Advanced Design Technology Ltd provides the best solution.
The direct approach for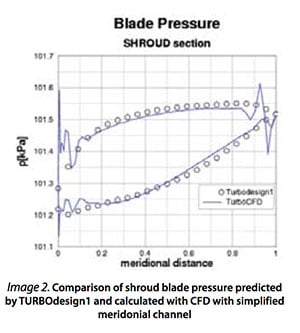 designing a new impeller, in which the blade geometry is optimized by trial and error modification of the blade shape together with a CFD code for evaluation of performance, requires a lot of geometrical parameters.

In addition, the correlation between geometrical parameters and aerodynamics is unknown in most cases. Therefore, a lot of CFD calculations or measurements have to be done until the best configuration is reached.
However, by using TURBOdesign1, the blade design can be achieved for a specified blade loading distribution and spanwise circulation distribution, which give direct control of 3D pressure field to the designer. This in turn allows designers to improve aerodynamic and aeroacoustic performance without the need for large number of CFD computations.

Katrin Bohl the R&D aerodynamic engineer at ebm-papst Mulfingen in Germany says of TURBOdesign1:
"Hence many different designs can be analyzed and evaluated without time-consuming CFD calculation. Additionally, the results of a new design can give useful indications as to which parameters are important for the aerodynamics and if the desired pressure rise can be realised. Through easy and fast variation of input parameters, an optimal configuration can be found within minutes."