ARC'TERYX, the Vancouver-based outdoor clothing and sporting good manufacturers, used Advanced Design Technology's expertise to design their evolutionary, life-saving avalanche airbag rescue system.
Using ADT's technical expertise and TURBOdesign Suite's ability to specify the blade loading, ARC'TERYX were able to come up with a breakthrough design. The new concept used an electrically-powered blower system to inflate the airbag, one which provides more initial pressure to fill the 150-litre balloon than any other battery-powered system on the market.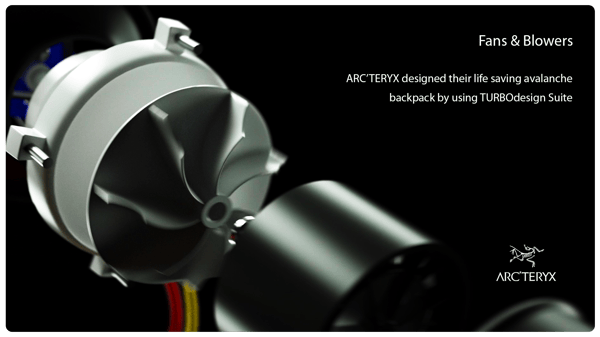 The resulting Arc'teryx system was so evolutionary it was rated "Best for game-changing tech" in 2018, a full three years after its initial release. A battery-powered system offers significant benefits compared to airbags that require gas cannisters or cylinders. Most importantly it means users can test and be trained in how to deploy the airbag, and the system provides enough pressure to inflate the airbag even if there are cuts or tears in the material.
The new design solved many of the issues that made the traditional system awkward; alongside being able to train in its use through multiple inflations, it's lightweight and easy to transport and there is no need to carry extra cylinders. Given many mountain areas are remote and require air travel, pressurized containers are an obstacle and are often expensive to refuel.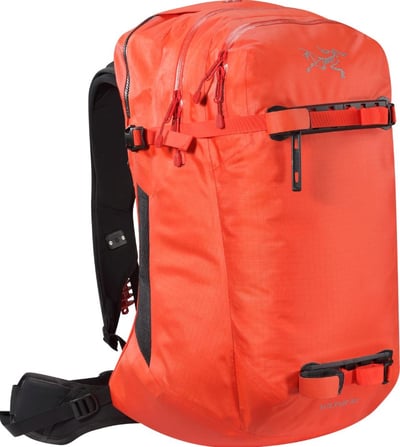 ARC'TERYX were able to provide ADT with their required performance characteristics, and by examining those as well as the available power and previous experiments, ADT's engineers were able to pinpoint a centrifugal blower as the most appropriate blower technology. The key requirements for the system were two-fold:
High pressure for the initial deployment of the airbag
Maximum air-flow to fill the bag quickly with no back-pressure
From there ADT was able to use our 3D Inverse Design method to develop an optimal design.
In the case study, Gordon Rose, Senior Industrial Designer at ARC'TERYX, explains why they chose to work with ADT and TURBOdesign Suite on this project. He also describes the critical parameters and requirements as well as how the full design process panned out. In particular how ADT's expertise and the significant time and cost savings of using TURBOdesign Suite's 3D Inverse Design method played a major role in the new system's success.