Welcome to our July update, where we take a look at our latest paper of the month on waterjet pump design, the upcoming AJK conference and our recent case studies.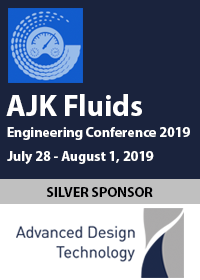 June and July are conference season at ADT, and with the ASME Turbo Expo now in the rear-view mirror our focus has shifted to the AJKFluids Engineering Conference at the end of July.
We're sponsoring the AJKFluids conference and we'll also be there showcasing our 3D Inverse Design technology as well as presenting two papers. One paper investigates the effect of blade loading on sheet cavitation patterns and the other looks at a multi-objective optimization of a high specific speed centrifugal volute pump.
After the conference, both these papers will available to anyone who requests them. If you aren't going to be at the conference, you can request the papers now and we'll send them as soon as it's finished.
Parametric Design of a Waterjet Pump by Means of Inverse Design, CFD Calculations and Experimental Analyses
Our July paper of the month describes the design of a mixed-flow waterjet pump. Its aim is to create an optimum design to maximize pump suction performance while also guaranteeing high hydrodynamic efficiency and meeting mechanical and vibration constraints.
Waterjet pump designs are challenging because of these aims, and the best design finds a compromise between them. The guidelines this paper was able to develop carry general validity because they are based on flow field analyses and hydrodesign parameters.
The paper investigated five different impeller design parameters to determine the design settings required to meet the multiple objectives of a waterjet pump. One such design was based on blade parameterization using an Inverse Design method. Read the case study to discover which parameterization performed best...
Optimizing Pump Efficiency and Expanding Product Potential with a 3D Inverse Design Method - A Case Study by Carver Pump

Carver Pump is one of the world's leading centrifugal pump manufacturers. They have traditionally built pumps for water, oil and chemical applications and have a wide-ranging product line.
To make their products even more competitive Carver wanted to expand its RS multistage ring section pump offerings with increased efficiencies. They used TURBOdesign Suite for the development of the impeller, diffuser and return vane sets, with requirements for efficiency, suction performance and stable off-design performance.
Find out why they chose TURBOdesign Suite, how they implemented the software and the results they were able to generate as a result of using a 3D Inverse Design method.
---
June saw not only the ASME Turbo Expo, but also the first inaugural World Refrigeration Day. We've done a lot of work with companies to design more efficient and higher performing turbomachinery for refrigeration, so we were really excited to see it marked by so many last month. If you missed any of our coverage, you can catch up with our look at four examples of turbomachinery in refrigeration to read for World Refrigeration Day.
Finally, if you missed out on attending the ASME Turbo Expo, you can still take a look at the paper we presented on transonic turbocharger compressors by dropping us a line.
---
If you want more like this to drop into your inbox, sign up to receive relevant updates from us below. Letting us know your interests will help us tailor our content so you only receive what's most important to you.