ADT engineers carried out the detailed design of a multi-stage submersible mixed-flow pump for oil and gas applications.
Our engineers were asked to perform the hydrodynamic design of a submergible multi-stage pump. This design was for an oil and gas application and achieved a significant improvement in system efficiency that was well above the target set by the customer, one of the world's leading manufacturers of ESP pumps.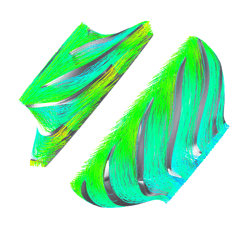 ADT's engineers were tasked to carry out this design as well as a detailed analysis of the axial thrust acting on the impeller, and a multi-phase flow analysis of the gas handling capability of the machine.

This summary of the work explores the preliminary design phase, blade loading distribution for the pump impeller and the design of the leakage gaps and balancing holes.
Applying 3D Inverse Design to Pumps
The 3D Inverse Design approach enables design engineers to directly control the three-dimensional flow fields and related hydrodynamic performance. Designers can explore larger areas of the design space and achieve breakthrough designs generally in the order of 3% to 5% higher efficiency than conventional design methods.
The systematic design and optimization of high efficiency pumps delivers 3 to 5 times higher productivity per design engineer while achieving efficiency improvements across the pump characteristic.