During 2021, there have been two releases of TURBOdesign Suite (2021R1 and 2021R2). One major focus of these releases were to build on new GUI architecture for TURBOdesign1.
A number of new functionalities were brought into TURBOdesign1 from other modules such as TURBOdesign CAD and, also, there was significant enhancements in the solvers used in TURBOdesign1. In addition to TURBOdesign1, there were important enhancements to TURBOdesign Pre and TURBOdesign Volute. Here, we summarize some of these improvements.
We invite you to playback TURBOdesign Suite 2021R2 Release webinar, where we will show the major features and enhancements: new features, how these can help to streamline design of chillers, heat pumps and Organic Rankine Cycle Turbines, the impact of the new loss prediction capability in TURBOdesign pre centrifugal pump on better prediction of pump stage characteristic.




New Robust Solver, Extension of RGP Lookup to Splitters

A new 'Robust Solver' is introduced which uses Incomplete Cholesky Conjugate Gradient (ICCG) method instead of the multigrid method to solve the elliptic equations used in TURBOdesign1. The new 'Robust Solver' can converge better in some applications where there is weaker diagonal dominance. But both solvers give exactly the same geometry.
Real gas function (through a RGP lookup table) is extended to all types of solvers including 3D / Quasi-3D solver, Fast / Robust solver and main / splitter blade solver. The RGP look up table functionality is used in TURBOdesign Pre, TURBOdesign1 and TURBOdesign Volute and enables TURBOdesign Suite to handle any fluid properties given by NIST REFPROP.
See an example of the comparison of surface pressure prediction for a 200 RT chiller compressor with R134a between TURBOdesign1 and Ansys CFX in the figure below.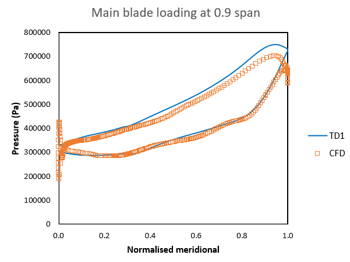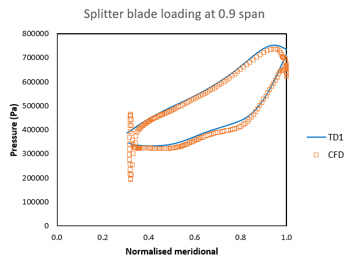 Reverse Engineering Function

This feature is very useful to find the blade loading distribution of an existing design from CAD file and was only available in the previous version of TURBOdeisgn CAD. The reverse engineering function has been completely brought into TURBOdesign1. The blade coordinate files can be imported through a new xyz converter window and the meridional geometry and thickness distribution are automatically imported into TURBOdesign1. Users are able to compare the blade angle / wrap angle of the new design and the imported existing design using 2D post-processing plots.

The new functionality enables companies to extract useful know-how in terms of blade loading that has generality from their database of good designs.
Enhancements to User Interface

There are more import functions, the users can import the meridional shape, blade loading, thickness and stacking of any previous case through *.tds file. The unit system is, as well, more comprehensive, the units selected will be used throughout the code for both inputs and all outputs and post-processing. Switching to control points loading automatically maintains the loading distribution from three-segment.
Finally, the users can now export all post 2D plots to .csv file for further processing.
New Functions for TURBOdesign Pre

For Francis Turbine module, a new meanline design module for Francis Turbine is developed. Users can design the whole Francis turbine stage including volute, stay vane, guide vane and runner using the basic design point conditions (head, RPM, and flow rate). A detailed meanline report will be available and files required for TURBOdesign1 for 3D blade design will be generated automatically.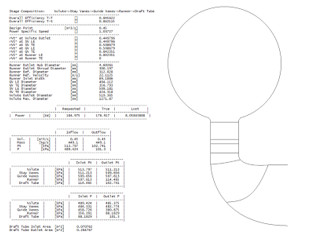 For Refrigeration Cycle module, a new configuration (two stage compression without economizer) is added and new COP maps are available for all types of configurations which allows users to quickly asses the COP at different conditions.


For Centrifugal Pump module, a new leakage loss model including the front and rear leakage losses is developed and validated against CFD and experimental data.


For Centrifugal Compressor and Radial-Inflow Turbine modules, the new power map prediction is added in the Analysis window which allows users to quickly asses the power values at different speeds and different flow rates.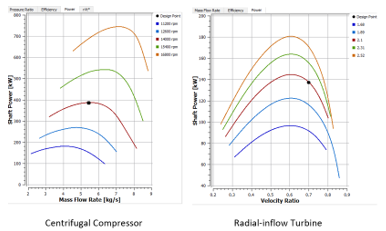 Improvements in TURBOdesign Volute

The real gas lookup table (RGP file) is supported in the TURBOdesign Volute. This functionality is very useful for the volute design used for chiller compressor and ORC turbine applications. It also allows the use of the same RGP file from
meanline design to 3D blade and volute design including CFD simulations.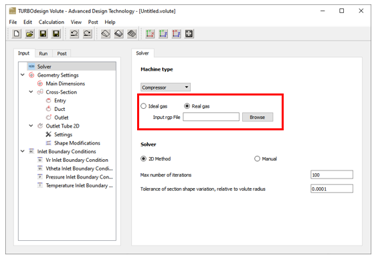 The volute cross-section area distribution can be now calculated using a Manual solver. Users are able to specify an area distribution by linear method, a file or control points. The feature allows the matching of an existing volute geometry using TURBOdesign Volute which can be referred to as a reverse engineering process.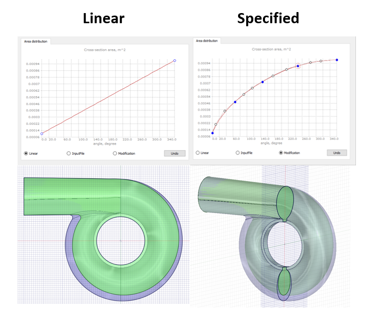 For pumps and compressors, the volute direction is set up to match the machine type automatically. Significant enhancements for volutes with trapezoid cross-section.
Mehrdad Zangeneh
Mehrdad Zangeneh is Founder and Managing Director of Advanced Design Technology and professor of Thermofluids at University College London.
View All Articles