Ebm-papst Mulfingen was founded in 1963 by Gerhard Sturm, still actively heading the company, and Heinz Ziehl. Everything started with the external rotor motor which was rediscovered then as an ideal drive for small fans. As the pillar and basic principle of our innovative and wide product range, the external - rotor motor made Ebm the world market leader. In the 1970s, both Ebm and Papst were innovators in the field of brushless EC drives. This guaranteed them an important edge in terms of know-how that they have been able to maintain right up to the present day.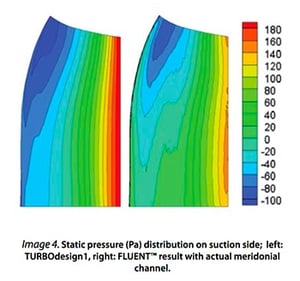 Design Process
The direct approach for designing optimal fans, a new impeller requires a lot of geometrical parameters. In most cases, the correlation between geometrical parameters and aerodynamics is unknown. Therefore, a lot of CFD calculations or measurements have to be done until the best configuration is reached.
Advantage of TURBOdesign1
Searching for new tools to make the design process faster and more efficient, an extensive benchmark of available design tools was carried out at Ebm - Papst. TURBOdesign1 shaped out to be the most suitable tool for developing new fan blades, promising gain of time and a better understanding of the aerodynamics.

Conclusion
TURBOdesign1 can be a valuable tool in designing fans. Its geometrical parameters are reasonable in realising the usual design specifications, with blade loading being an important parameter for aerodynamic and aeroacoustic optimization.